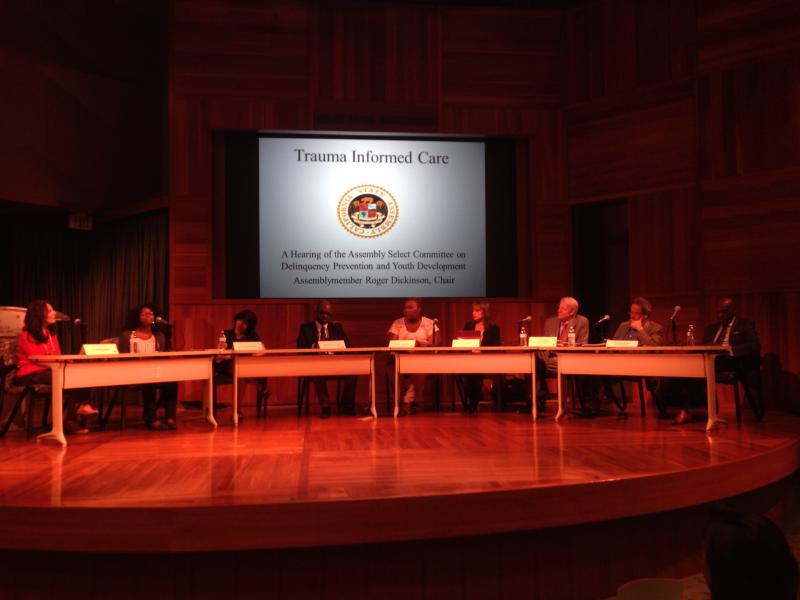 On April 4, California Assemblymember Roger Dickinson held a discussion at the Los Angeles Public Library to talk about trauma-informed care for youth. Robert Ross, CEO of the California Endowment, spoke alongside Dickinson about the issue of violence and neglect affecting emotional health and achievement. He stated, "This hearing is groundbreaking, I'm not aware of any other state legislation in the country that has begun to lift this issue up in the way that we have." Community leaders are pushing for the state of California to be a trendsetter in trauma response.
In an editorial last month, Ross stated, "We can recognize that chronic absence or misbehavior is a symptom of a possible health need, as surely as a cigarette burn." The facts were clear- trauma affects a huge number of students, and existing disciplinary methods and support structures don't take that widespread experience into account. Most children do not receive formal treatment to address what they have witnessed. School is where the damage of trauma first presents itself- a more attentive system would make interventions more successful.
Time was spent looking at alternatives to traditional discipline. Multiple speakers triumphed restorative justice, where the source of bad behavior is found and decisions help heal both the offender and the victim. Rather than detention or suspension, community groups reported that use of quiet time (or transcendental meditation) increased focus and decreased aggressive behavior.
Ross, finishing his editorial, says, "Let's all commit to supporting schools, neighborhoods, health clinics and homes in becoming places that build the resilience in all of us." The Dickinson hearing is part of that- attempting to build resilience across a community and beyond.
Picture from Arash Zandi, from Neon Tommy.
Next Door was honored to be a recipient of proceeds from the Coldwell Banker Platinum Group Spring Community BBQ on Saturday, April 5.  A special thanks to Gina Gonzalez and Della Martinez (pictured below with Next Door Board Member Lisa Villarreal and Next Door staff member Donna Knowlton).  Thank you to all the sponsors of this community event for a special day in south San Jose!
Each Sense 5K event is a unique combination of art, sound, and running fun. Next Door Solutions to Domestic Violence is this year's charity partner to the SF Bay Area event, which will be held at the Santa Clara County Fairgrounds on May 24, 2014.
You can sign up here to run. Early admission is $60, and lasts until April 24. After then admission will be $65. Sense 5K is also looking for event volunteers, you can sign up here. This event will be very fun! Please participate and support the work of Next Door.
Many thanks to The Exchange Club of San Jose for their generous donation of toys and handmade wooden items (rocking horse, doll cribs, puzzles) to the children of Next Door given at the 31st Annual Blue and Gold event on March 28, 2014..  We truly appreciate your thoughtfulness…and our children did as well.  The faces of the recipients said it all!  We are truly grateful and honored to be chosen for this donation.
Next Door is not able to help the women and children that it does without the support of our incredibly generous community. From the smallest donations to the largest grants from the state, all support helps to take vital steps toward our mission to end domestic violence in the moment and for all time.
Next Door below acknowledges some of our high profile funders ($5,000+) and was honored to receive the following support this past quarter year:
David & Lucile Packard Foundation — The David & Lucile Packard Foundation has granted Next Door $30,000 to develop its marketing capacity so that it may increase its visibility in the community. The grant pays for a marketing consultant, Consulting Within Reach, that will help Next Door assess its marketing capacity and develop ways to enhance its marketing capacity in the future.
Latham & Watkins, LLP — A valued financial and in-kind supporter of Next Door for several years, Latham & Watkins, LLP continues to provide countless hours of pro bono assistance to Next Door clients. Latham & Watkin's $5,000 grant this year will help ensure that our clients can access necessary legal services including restraining orders, court accompaniment, and language translation. Thank you very much Latham & Watkins for all the many ways you help Next Door and its clients.
Mary Kay Foundation –  In advance of Domestic Violence Awareness Month in October, The Mary Kay FoundationSM  awarded $3 million in grants to 150 domestic violence shelters in all 50 states, the District of Columbia and Puerto Rico. Next Door's 24-hour Emergency Shelter in San Jose, CA received one of the $20,000 unrestricted grants to maintain critical services and programs for individuals who are survivors of domestic abuse. The funds received from The Mary Kay Foundation will allow staff at Next Door's Shelter to keep its doors open, provide safety planning, case management, food, and vital safe housing.
Adobe Systems- Next Door is grateful to Adobe for their grant of $43,250. Funds will support our self-sufficiency program. Often, women who leave dangerous domestic situations need assistance rebuilding their lives. This grant will help expand our program which offers women training in financial literacy, job searches, resumes, educational searches, budgeting, ongoing motivation building, as well as self-awareness and self-esteem. The goal is to help women gain long-term financial and emotional self-sufficiency.
Breaking the Cycle Foundation – Next Door Solutions to Domestic Violence works hard to break the cycle of domestic violence. A recent operations grant from Breaking the Cycle Foundation for $15,000 will go to support the ongoing work of Next Door in helping women survivors gain safety and self-sufficiency.
In-N-Out Burger Foundation – Next Door Solutions is grateful for the grant of $7,500 from In-N- Out Burger Foundation to support our programs for children and families seeking shelter from domestic abuse. Since 1984, In-N-Out Burger has been helping abused and neglected children, giving back to the communities where they do business. This grant will help Next Door provide much-needed crisis services, moving families from crisis to stability through counseling, direct support, and networked services in our community.
Mission City Community Fund – Because of a generous grant for $7,000 from MCCF, Next Door will be able to provide ongoing services for residents of Santa Clara County who come to our 24-hour shelter. This is a crucial service for women in crisis. Funds will also support staffing our 24-hour a day hotline so that Santa Clara County residents can receive counseling, support and emergency planning round the clock. The Mission City Community Fund is staffed and funded completely through volunteers and we are grateful for being one of the many social service projects they support in our local community.
Valle Monte League –  Because of a generous grant of $5000 from the Valle Monte League, Next Door will be able to supply staffing for our 24-hour shelter and hotline. For women seeking respite from domestic violence, having a place to turn to 24/7 is crucial to their safety and well-being and that of their children. Recognizing that everyone from young children to seniors may, at some time in their lives, be facing a crisis in which professional support is imperative, the women of Valle Monte League use their energies to raise funds for mental health agencies in the area.
Hurlbut-Johnson Charitable Trust – We are grateful for a grant of $10,000 from the Hurlbut-Johnson Charitable Trust at the Silicon Valley Community Foundation for supporting general operations at Next Door Solutions to Domestic Violence. This grant will enable us to continue providing essential services to survivors of domestic violence through shelter, counseling, support services and referrals.
The Avon Foundation — In its effort to support self-sufficiency services for domestic violence survivors around the country, the Avon Foundation granted Next Door a $65,000 grant for its Self-Sufficiency Program. Next Door was one out of a short list of grantees nationwide to receive such a grant.
Wilson Sonsini Goodrich & Rosati  — long time supporter Wilson Sonsini became our Platinum Sponsor of our Holiday Boutique with their donation of $5,000.
Comerica Bank — Comerica Bank, for a third year in a row, became a Platinum Sponsor of our annual Holiday Boutique with their donation of $5,000.
Please join us on February 22, 2014 at 7:30pm for an evening of beautiful chorale music performed by:
Orchard City Community Chorus
Rainbow Women's Chorus
CSL Global Heart Choir
Mission Valley Chorus
Serendipity
Center for Spiritual Living Church
1195 Clark Street
San Jose, CA 95125
Tickets at the door are $20.
Please bring old or broken cell phones to donate to Next Door.
On February 21 and February 22 at 8pm at the Montgomery Theater in San Jose, Next Door Solutions to Domestic Violence will once again be the beneficiary of two nights of the Vagina Monologues Play. 
Tickets can be purchased by clicking here or at the door. ($30 general admission)
There will also be a Silent Auction.
See   You   There!
When a woman is in crisis, it can be hard to stay calm and analyze all the options. Our Crisis Intervention Advocates present walk-in clients with safety plans, resources and referrals, and coordinate emergency services our clients need as well as other non-crisis community services that address hunger, homelessness, and health needs and allow them to rebuild their lives in a sustainable way.
Next Door has one of the only walk-in crisis counseling services in the County. A trained counselor will help sort out the most pressing issues. Does she need a safe place to stay that night? Counselors might refer her to one of many shelters and safe-houses in the region. Is her life in danger? Next Door staff will help navigate the legal system, including getting restraining orders. Our counselors can also provide transportation to safety. Women are connected to a range of services, including children's services, healthcare, legal advice and food stamps. Our clients come away with an action plan based on their immediate needs. Many of our counselors are from San Jose State University's counseling Master's program and are trained by our professional staff.
Our program serves over 1000 women every year with bilingual Spanish/English counseling. If you want to learn more, call Next Door's hotline, 24 hours a day, seven days a week at 408-279-2962.
http://www.nextdoor.org/services/victimadvocacy/
In 1998, playwright and activist Eve Ensler did something brave. She stood up on stage in New York and said the V-word, not once, but hundreds of times. It was part of her groundbreaking play The Vagina Monologues. Each February 14th , in countries around the world, volunteer actors stage the play, which consists of short biographical, often humorous stories celebrating sexuality, independence, and self-acceptance.
This year, there are 1000 plays and other events planned around the world. Next Door will be the beneficiary of a Vagina Monologues Play presented at the Montgomery Theater in San Jose on February 21 and 22. (BUY TICKETS HERE!) Proceeds from the productions go to support groups like Next Door and other domestic violence prevention nonprofits. By reminding us that love is built on respect, V-Day celebrates women's power over violence. Their slogan is "Until the Violence Stops."
Here are a few reminders of how far we have to go in our own country.
 Fact #1: Over 22 million women in the United States have been raped in their lifetime. [1]
Fact #2: 18.3% of women in the United States have survived a completed or attempted rape.
Fact #3: Of the 18.3% of women who have survived rape or attempted rape, 12.3% were younger than age 12 when they were first raped, and 29.9% were between the ages of 11 and 17. [2]
Fact #4: Every two minutes, somewhere in America, someone is sexually assaulted.[3]
Fact #7: 15% of sexual assault and rape victims are under age 12; 29% are age 12-17; 44% are under age 18; 80% are under age 30; ages 12-34 are the highest risk years. [4]
Also on February 14, One Billion Rising for Justice brings millions of women around the world out on the streets for music and dance event celebrating women's resilience in the face of violence.  There are events in San Jose and Cupertino. We hope you will attend one of them. Find a V-Day/One Billion Rising Event near you:
---
[1] National Intimate Partner and Sexual Violence Survey 2010
[2] National Intimate Partner and Sexual Violence Survey 2010
[3] Rape, Abuse and Incest National Network (RAINN) calculation based on 2000 National Crime Victimization Survey. Bureau of Justice Statistics, U.S. Department of Justice
[4] Department of Justice 2010
Next Door is happy to welcome our new staff member, Colsaria Henderson, to our management team!
Colsaria Henderson, Director of Programs
Colsaria has worked towards ending violence against women and girls for more than 15 years. She has been in a management position for the last eight years at various Domestic Violence and Sexual Assault agencies in the bay area.  She enjoys both direct service and macro level policy work.  She is a graduate of the California Women's Policy Institute sponsored by the Women's Foundation of California and is currently a part of the Strong Field Domestic Violence Leadership Program.  She began her service at Next Door Solutions in January of 2014.