Next Door has been honored to have been chosen by the Bella Vista League to be one of three beneficiaries of its Wonderful Witchy Women Fundraising Luncheon.
Monday, October 27th, 2014
10:30am -2:30pm
San Jose Fairmont Hotel
170 South Market Street
San Jose, California
Supervisors in San Francisco weigh in on the 49ers handling of domestic violence issues on their team, condemning the decision to allow Ray McDonald to keep playing while under investigation.
Read the San Franciso Supervisors' 49ers Resolution here
"Bench Domestic Violence" is not only a clever play on words; it is also an extremely important message. Let's raise the shades in homes where men abuse the women they claim to love and let the sun shine in exposing the secret and bringing light.
It is time to engage healthy men to walk together towards a world of gender equity and peace in our homes. Please join our campaign and bench domestic violence. It starts today. We can't wait any longer. The opportunity to challenge ourselves is now.
Follow us on our website, Twitter (@NDSolutions) and Facebook (NextDoorSolutions) to stay updated on all activities as they roll out.
Please provide your input on our comments section. Thank you for joining us.
---
Next Door Solutions to Domestic Violence
cordially invites you the
P.O.W.E.R GRADUATION
Come celebrate with the P.O.W.E.R youth and hear about their successful campaigns to address the issue of gender based violence
Tuesday, May 13, 2014
5:30 to 7:30 PM
Next Door Solutions to Domestic Violence
234 East Gish Road, Suite 200
San Jose CA 95112
---
We are officially recruiting for the next class of POWER Youth Leaders.   We are looking for youth who want to embark on a PAID year of leadership, education, and mobilization. Youth Leaders will help shape and create efforts to organize peers and their communities to become change agents around the issues of Gender Based Violence, Gender Inequity, and Dating Violence.  Raise Awareness, Share Your Passion, & (Re)Discover your Voice!
Applications are now being accepted for the 2014-2015 school year!  Deadline is now June 20, 2014, so act quickly!  Simply fill out application located here (PDF) and return it to:
Pavel Korobkov, Youth Program Coordinator (pkorobkov@nextdoor.org). Questions?  Call Pavel at 408-501-7545.
Thank you to West Valley College Small Group Communication class who came to our Community Office on Friday, April 25, for hours of spring cleaning!  They cleaned and disinfected our Kid's Club and our play areas for children…a task that was definitely overdue!  This was a daunting task and they did it with a smile.  They also made their t-shirts…the red hand print on the shoulder represents a "hand to tell someone you care when you don't have the words".  We are truly grateful for their generous act of service…and for spreading the word about ending domestic violence in our community!
Pictured are:  Ashley Pourroy, Andrea Boales, Sherry Ta and Priscilla Barrera.
Lone Star Limo will donate 5% of proceeds in the month of May to Next Door Solutions to Domestic Violence, for each airport transit booked through their website. We appreciate the exposure and care from everyone at Lone Star, and hope those who need such limo services know they can also help out Next Door at the same time!
Book airport transit here.
Check them out at: https://www.facebook.com/LoneStarLimo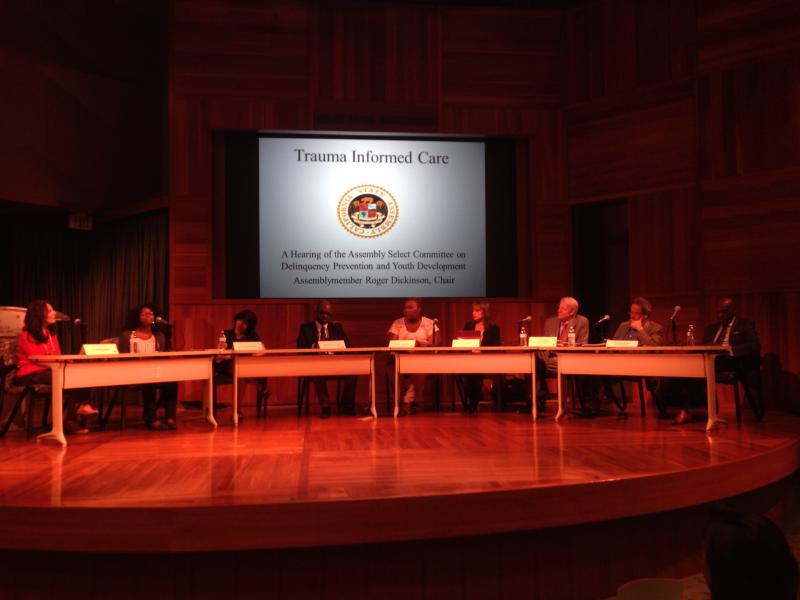 On April 4, California Assemblymember Roger Dickinson held a discussion at the Los Angeles Public Library to talk about trauma-informed care for youth. Robert Ross, CEO of the California Endowment, spoke alongside Dickinson about the issue of violence and neglect affecting emotional health and achievement. He stated, "This hearing is groundbreaking, I'm not aware of any other state legislation in the country that has begun to lift this issue up in the way that we have." Community leaders are pushing for the state of California to be a trendsetter in trauma response.
In an editorial last month, Ross stated, "We can recognize that chronic absence or misbehavior is a symptom of a possible health need, as surely as a cigarette burn." The facts were clear- trauma affects a huge number of students, and existing disciplinary methods and support structures don't take that widespread experience into account. Most children do not receive formal treatment to address what they have witnessed. School is where the damage of trauma first presents itself- a more attentive system would make interventions more successful.
Time was spent looking at alternatives to traditional discipline. Multiple speakers triumphed restorative justice, where the source of bad behavior is found and decisions help heal both the offender and the victim. Rather than detention or suspension, community groups reported that use of quiet time (or transcendental meditation) increased focus and decreased aggressive behavior.
Ross, finishing his editorial, says, "Let's all commit to supporting schools, neighborhoods, health clinics and homes in becoming places that build the resilience in all of us." The Dickinson hearing is part of that- attempting to build resilience across a community and beyond.
Picture from Arash Zandi, from Neon Tommy.
Next Door was honored to be a recipient of proceeds from the Coldwell Banker Platinum Group Spring Community BBQ on Saturday, April 5.  A special thanks to Gina Gonzalez and Della Martinez (pictured below with Next Door Board Member Lisa Villarreal and Next Door staff member Donna Knowlton).  Thank you to all the sponsors of this community event for a special day in south San Jose!
Each Sense 5K event is a unique combination of art, sound, and running fun. Next Door Solutions to Domestic Violence is this year's charity partner to the SF Bay Area event, which will be held at the Santa Clara County Fairgrounds on May 24, 2014.
You can sign up here to run. Early admission is $60, and lasts until April 24. After then admission will be $65. Sense 5K is also looking for event volunteers, you can sign up here. This event will be very fun! Please participate and support the work of Next Door.